26/11/07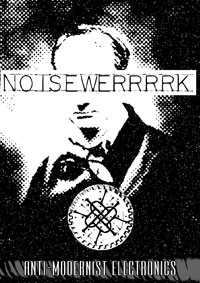 "Anti-Modernist Electronics" out now on Nil By Mouth

Art has become a purely commercial item and lost it's potential for progression. The answer to the degenerated state of culture is traditionalism in it's most positive sense. Progression is found in our past. "Anti-Modernist Electronics" takes a look back to move on. 4 tracks of pure European-style power-electronics, featuring the most structured Noisewerrrrk material to date. Spraypainted plastic bag in silver with some black drops and a large gatefold insert.

Listen to an excerpt of track #2 (Homo homini lupus est) on the Noisewerrrk myspace-site @ http://www.myspace.com/noisewerrrrk

6 Euro (Europe) – 7 Euro (World)
Available through Antimoderne Tonträger (http://amt.blogsport.de) and Nil By Mouth (http://www.myspace.com/nilbymouth).

19/11/07
Misanthropy is a virtue preorder

You can preorder your copy of "Misanthropy is a virtue" now.
30+ minutes of pure harshnoise on a black cd-r, comes in a handmade two layer cardboard case.
Check Antimoderne Tonträger for further information, a photography and a free mp3.
26/10/07
Antimoderne Tonträger

Ok, I took the "shop-section" from the site. I decided to focus all the distribution and trade stuff and so Antimoderne Tonträger is born.

It will work as the label for some of the upcoming Noisewerrrrk stuff (and some other shit), a pe/noise distribution (which is under construction) and some fancy blog-thingie to satisfy my over-developed ego.

I am currently working on the songs for a new full-length cd which will be released on Existence Establishment sometime in 2008. Expect some sick packaging orgy.
21/09/07
Upcoming Noisewerrrrk releases

Misanthropy is a virtue, cd-r (self released)
Anti-Modernist Electronics, tape (Nil By Mouth)
Prekariat, mini-cdr (Silken Tofu)
01/09/07

"Amok" 3" cd-r out now!

Three songs, about 13 minutes of aural noise- and pe-atrocities. This time dealing with the mindset of a person on an amok killing spree, presented in three phases.

The disc comes in a small slim-case with photocopied black/white cover.
2,50 EUR plus postage.

In need of another way to express a darkening outlook on today's world resulting in a mood of rage, hate, anger and fear and a growing cynicism looking on what's going on I decided to form Noisewerrrrk in October 2005. All music, lyrics and recording and most of the package design and duplication is done by myself as control over every aspect of this project is very important.

Keeping the above said in mind it is easy to summarize Noisewerrrrk's concept: the so called "negative feelings" - anger and rage, nihilist attitude, cynical perspective and the (sometimes disturbing) attraction of man for the bizarre and dark.

Amok
September 2007, 3" cd-r, slimcase with photocopied b/w-insert, not limited
Phase 1: Disintegration
Phase 2: Killing spree
Phase 3: Self-destruction
Baal Molok
July 2007, mp3-only release
Martyr
November 2006, 3" cd-r, slimcase with full color-cover and b/w-insert, limited to 35 copies
Educate, initiate, indoctrinate
Live for your god
Die for your god
Path to the heavens
MFA -SOLD OUT-
January 2006, cd-r, handmade artwork on structured and transparent paper, limited to 26 copies
CYEP
Random violence
Mivacron pt. I
Misstrauen
Piss on your grave
Mivacron pt. II
A rain...
Disgusted by your morals/I feel sick-ep
December 2005, mp3-only release
Compilations

"New World Order", 2007, Thonar, "Dystopia"
"Doomsday cake", 2006, Medusa Head, "Thermonuclear cleansing"
"Pass the doughnut-shaped cushion, Alice", 2006, BTRecordings, "I hate people"